Russian Information Operation in Georgia – Sputnik's Coordinated Network on Facebook

The International Society for Fair Elections and Democracy (ISFED) has discovered a suspicious scheme of coordinated dissemination of materials of a Russian media outlet Sputnik across Georgian Facebook space. Based on observation of open sources on Facebook, the organization has concluded that fake personal accounts on Facebook and certain thematic Facebook pages create an inauthentic coordinated network for dispersal of materials published on Sputnik website.
ISFED discovered 37 likely inauthentic accounts related to Sputnik - among them, 11 disguised Facebook pages and 26 likely inauthentic personal accounts that spread Sputnik materials in an organized and suspicious manner. ISFED found that 41 public Facebook groups are used to disseminate Sputnik content. Notably, the materials disseminated under such scheme are not political in nature and they are mostly of positive or scandalous content. Spread of Sputnik materials under such scheme possibly aims to increase traffic to Sputnik's website and amplify its content. It may also aim to collect personal digital information of website visitors.
. . . . . .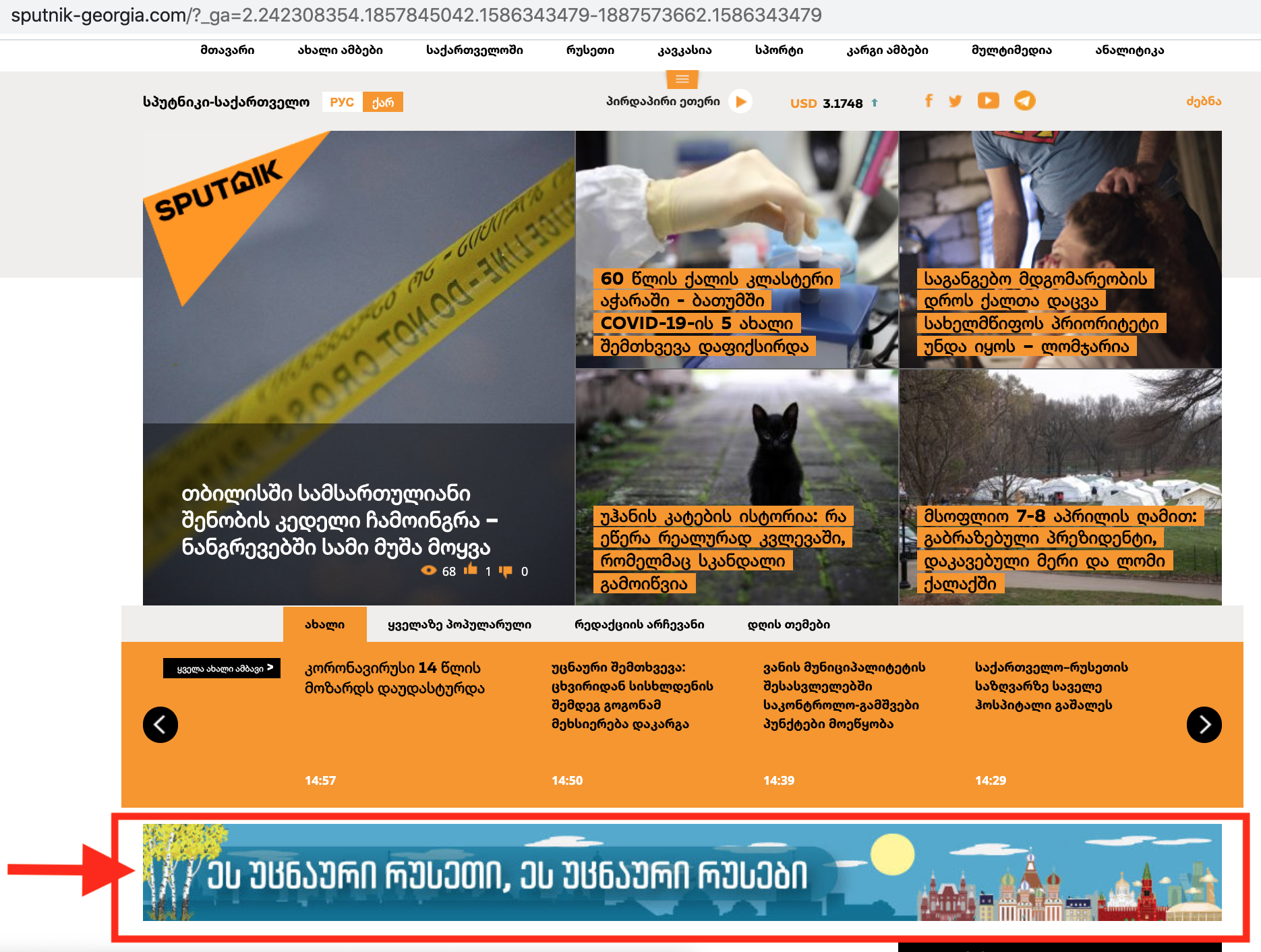 Screenshot of Stputnik Georgia website with a banner that links to the content aimed at portraying Russia in a positive light.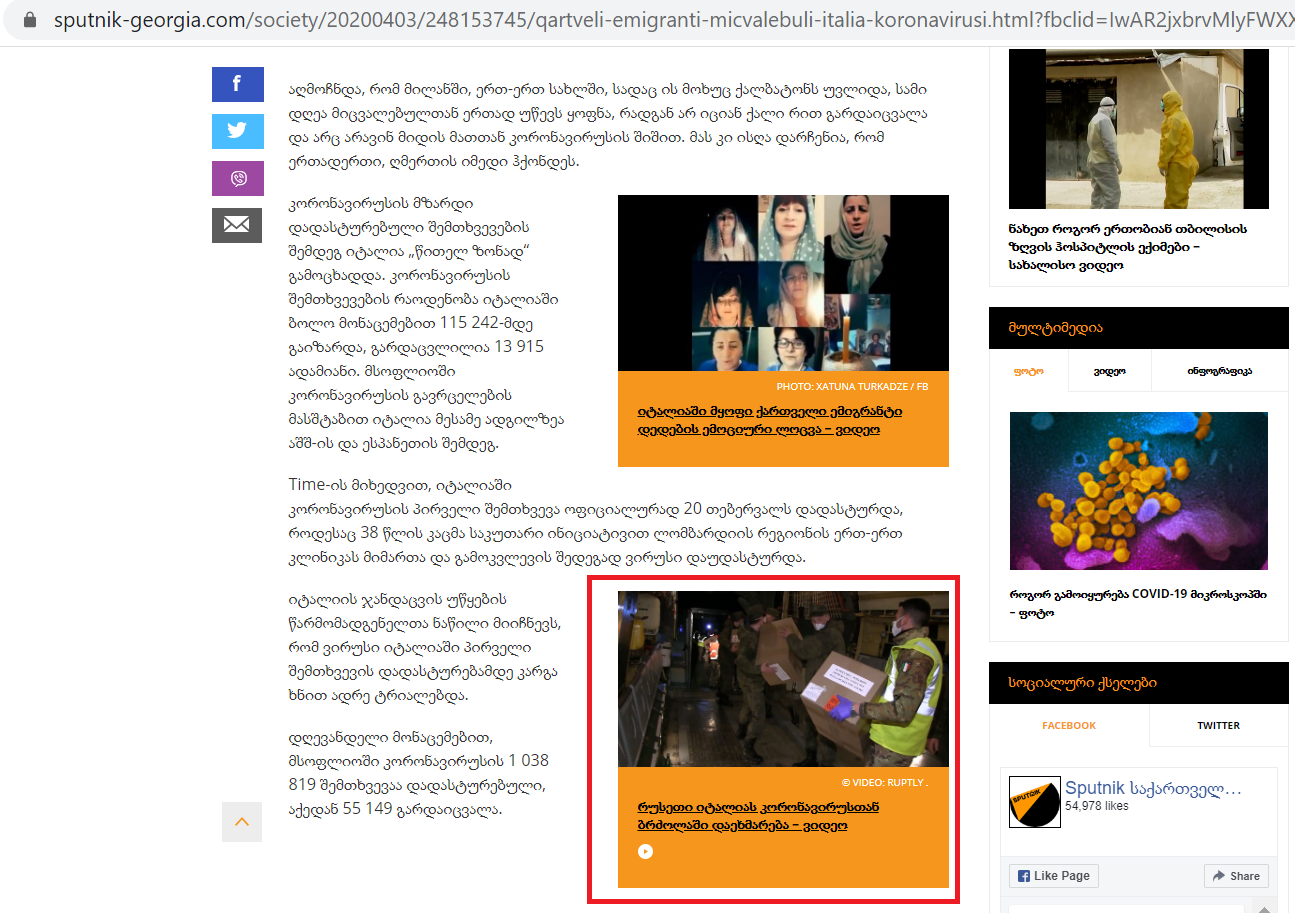 Article about a Facebook status of an emigrant in Italy amid coronavirus with a suggested article about Russian assistance to Italy.
. . . . . .
ISFED observation found that same fake accounts share articles of sputnik-georgia.com on Georgian language Facebook pages and Facebook groups, and materials of sputnik.georgia.ru in Russian language Facebook sources created about Georgia. By following the links to these websites, visitors see articles that are of pro-Russian and anti-Western content.
For example, when reading an article about a Facebook status of an emigrant during coronavirus in Italy, a reader is offered to read an article which is about Russian assistance to Italy. The link contains a video which is part of the Russian propaganda.
The coordinated inauthentic behavior of personal accounts and pages associated with Sputnik, discovered by ISFED violates section 20 of Facebook's mandatory Community Standards, prohibiting inauthentic behavior on the platform – in particular, it prohibits artificially boosting the popularity of content using fake or multiple accounts or any other action directed at violating mandatory Facebook standards. This policy of Facebook is intended to create a space where people can trust the people they communicate and interact with.
ISFED has identified the following two tactics of inauthentic dissemination of Sputnik materials:
One scheme relies on seemingly "harmless" fun and special interest Facebook pages with many subscribers for disseminating Sputnik's content. These pages mostly post positive photos of flowers, children, animals or cities, followed by sharing of a post that contains Sputnik's link. This way, seeing Sputnik's article does not raise any suspicions among Facebook users, however they inadvertently find themselves in the network of the Russian information operation.
Another scheme relies on fake personal accounts to disseminate Sputnik articles in closed or open groups on Facebook, selectively according to the group topic or issue. These accounts alternate with one another to post Sputnik's links in different groups, in a way that makes it impossible for the group members and possibly also for administrators to notice the coordination scheme.
Dissemination of Sputnik materials through such covert scheme may pose an important threat because as a result, Facebook users may inadvertently find themselves in the Russian information influence space. After visiting the website of Sputnik-Georgia, a visitor is offered to subscribe to the news and if the visitor agrees to the offer, the application requests permission to show notifications in the web-browser however details of information collected about the user are unknown. Permission received in such way represents uniformed consent of users.
. . . . . .
You may subscribe to Sputnik's notifications
Subscribe Refuse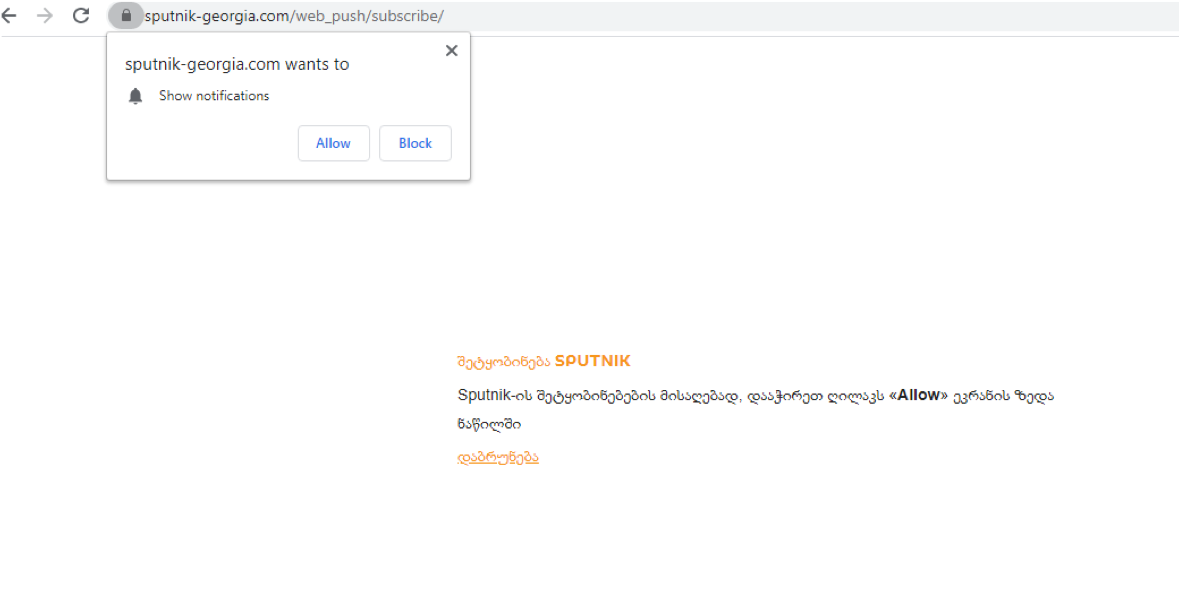 Notification: Sputnik
Press "Allow" in the upper corner of your screen to receive Sputnik's notifications
Return
. . . . . .
Covert Dissemination of Sputnik Content on Inauthentic Facebook Pages
ISFED has discovered 11 pages that are used to disseminate Sputnik-Georgia content in a disguised form. As of February 16, total number of their subscribers was 762,832.
These pages' operation resembles click-bait strategy and majority of their content is comprised of positive photo and video materials, including photos of animals, flowers, models and children, followed by sputnik-georgia.com articles. Notably, over the last year, these 11 pages have not shared links from any other websites but Sputnik.
A popular page called People from Cities of the World with over 466,000 subscribers is one of these pages. It publishes posts containing a Sputnik link about 3-4 times a day on average.
. . . . . .
Examples of dissemination of Sputnik materials in a disguised form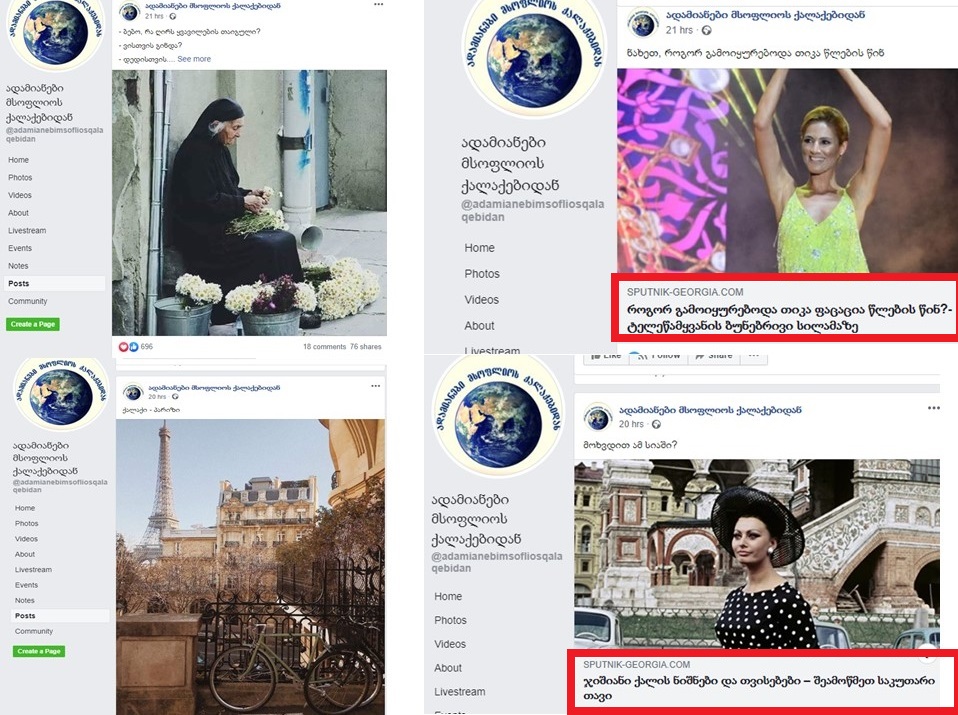 Posts by People from Cities of the World:
1. Post text: See how Tika Patsatsia looked years ago
Sputnik article headline: How did Tika Patsatsia look years ago? – Natural beauty of the TV host
2. Post text: Are you on the list?
Sputnik article headline: Characteristics of a pure-bred woman – test yourself
. . . . . .
Pages that disseminate Sputnik materials in an unauthentic and coordinated manner
| | |
| --- | --- |
| Name of the page | URL |
| People from cities of the world | |
| Colorful world | |
| Silkwolf | |
| Interesting for you | |
| Calmness | |
| Master classes for beginning gardeners and florists | |
| Русский Клуб/Russian Club | |
| Panda | |
| Page | |
| Happiness ∞ | |
| Flora and fauna | |
Even though there are almost no pro-Russian political posts or articles on these pages, their network together with fake accounts and target Facebook groups create the necessary infrastructure for Russian information operations. In addition, means and tactics identified in this article are used to relax attention of Facebook users, to deceive and confuse them.
. . . . . .
Examples of the same links to Sputnik articles on astrology-related topics shared by different pages at the same time.
. . . . . .
Suspicions that these pages serve as a weapon of Russia's information operation in Georgia are reinforced by the fact that three of them are administered from Russia. In addition, the linkages of these three pages with the other eight are clearly evident.
. . . . . .
Pages that are engaged in unauthentic dissemination of Sputnik content and are administered from Russia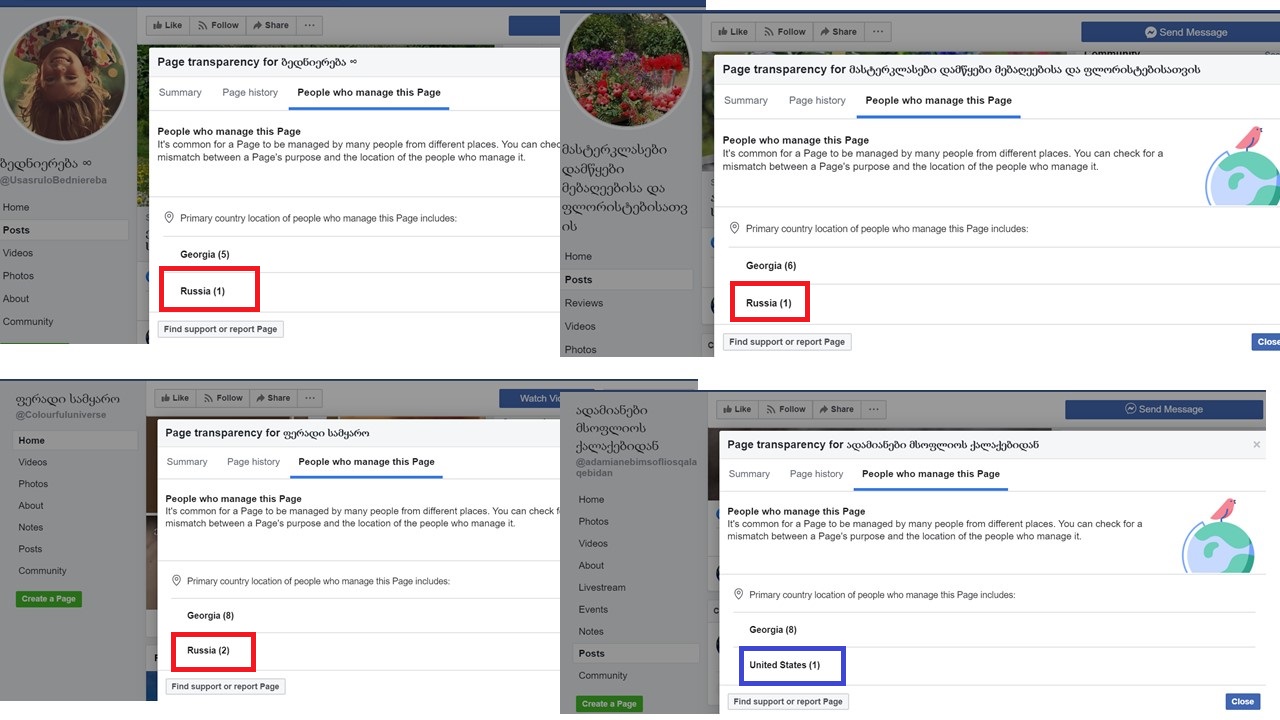 . . . . . .
Inauthentic Coordinated Accounts that Disseminate Sputnik Content
Almost all fake personal accounts identified by ISFED share common characteristics – in particular, names and last names are made up or are indicated in an incomplete manner, as initials. Many of these accounts use photos of other people stolen from the internet as their profile pictures. Small number of their friends and the fact that they are only friends with one another indicates that these accounts are fake. In addition, there are no interactions or organic posts characteristic to accounts that belong to real users and they mostly share from false pages that serve the purpose of disseminating Sputnik materials only.
26 fake accounts identified by ISFED share Sputnik articles in groups with large audiences, in a way that's unnoticeable to ordinary Facebook users, in a disguised, organized and selective manner. Articles shared in a particular group are mostly chosen according to topics discussed within the group.
. . . . . .
Examples of fake accounts with stolen identities that have been found to disseminate materials of Sputnik Georgia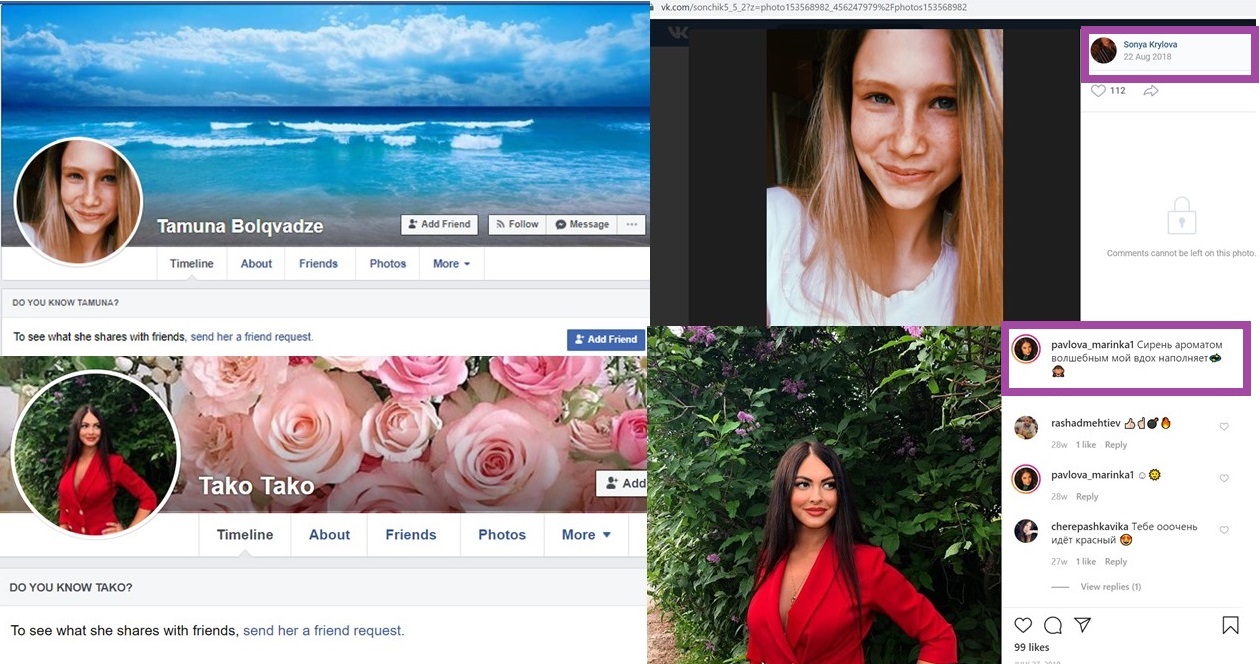 . . . . . .
The fake accounts disseminate Sputnik content not only for Georgian language audience, but also for Russian language Facebook users in Russian language Facebook groups and pages focused on Georgia.
. . . . . .
An example of the same account posting different Sputnik content in Georgian language and Russian language groups.
. . . . . .
It is also suspicious that several identified inauthentic profiles post on their personal account or in a Facebook group that they are interested in buying a Facebook page or a group, which creates additional suspicions about their unhealthy interests to put their hands on groups and pages organized around different topics.
. . . . . .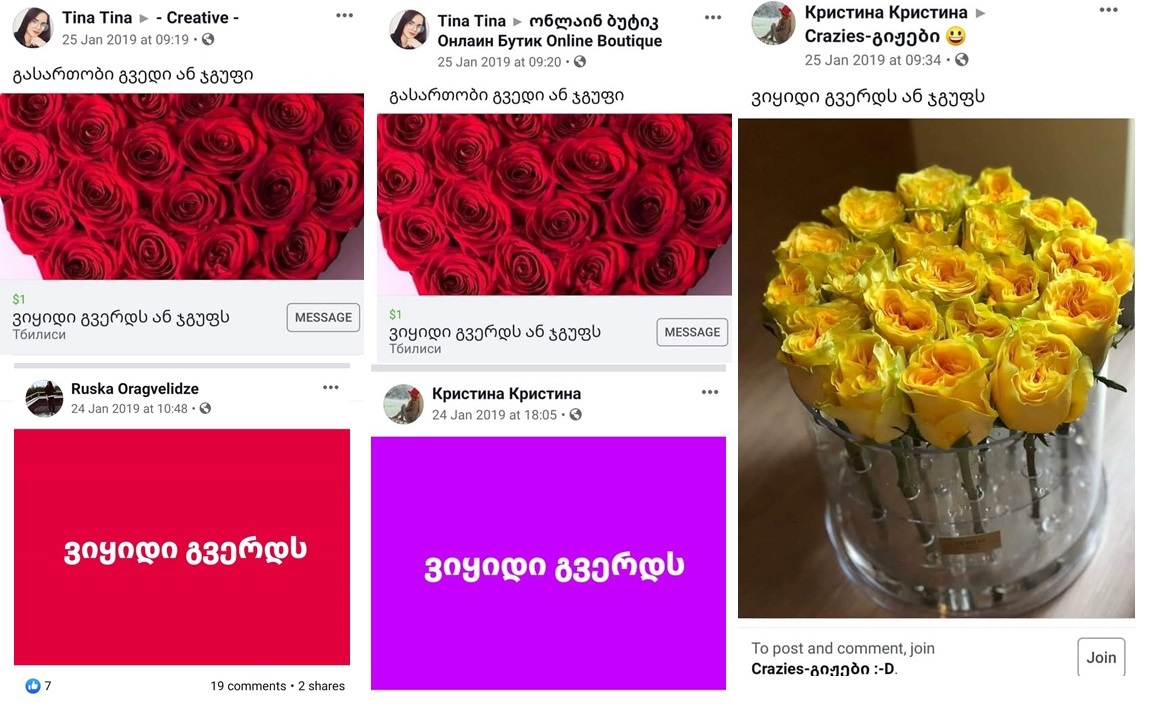 Post texts: Interested in buying a page/group
. . . . . .
Scheme of Inauthentic, Coordinated Dissemination of Sputnik Content in Georgian Language Groups
Having monitored openly available sources, ISFED arrived to the conclusion that materials disseminated by fake accounts associated with Sputnik are diversified and they are disseminated in different groups according to topics of interest that are discussed within these groups. These topics include:
Personal life of Georgian celebrities
Gardening
Emigrants
Zodiac
Tourism
Culinary
Fashion
Fake accounts are taking turns to disseminate Sputnik-Georgia materials almost on a daily basis and several times a day, in a selective manner, in Facebook groups with thousands of people as an audience. The shared content is usually represented as a link to a Sputnik article online, accompanied by a brief description of the article.
. . . . . .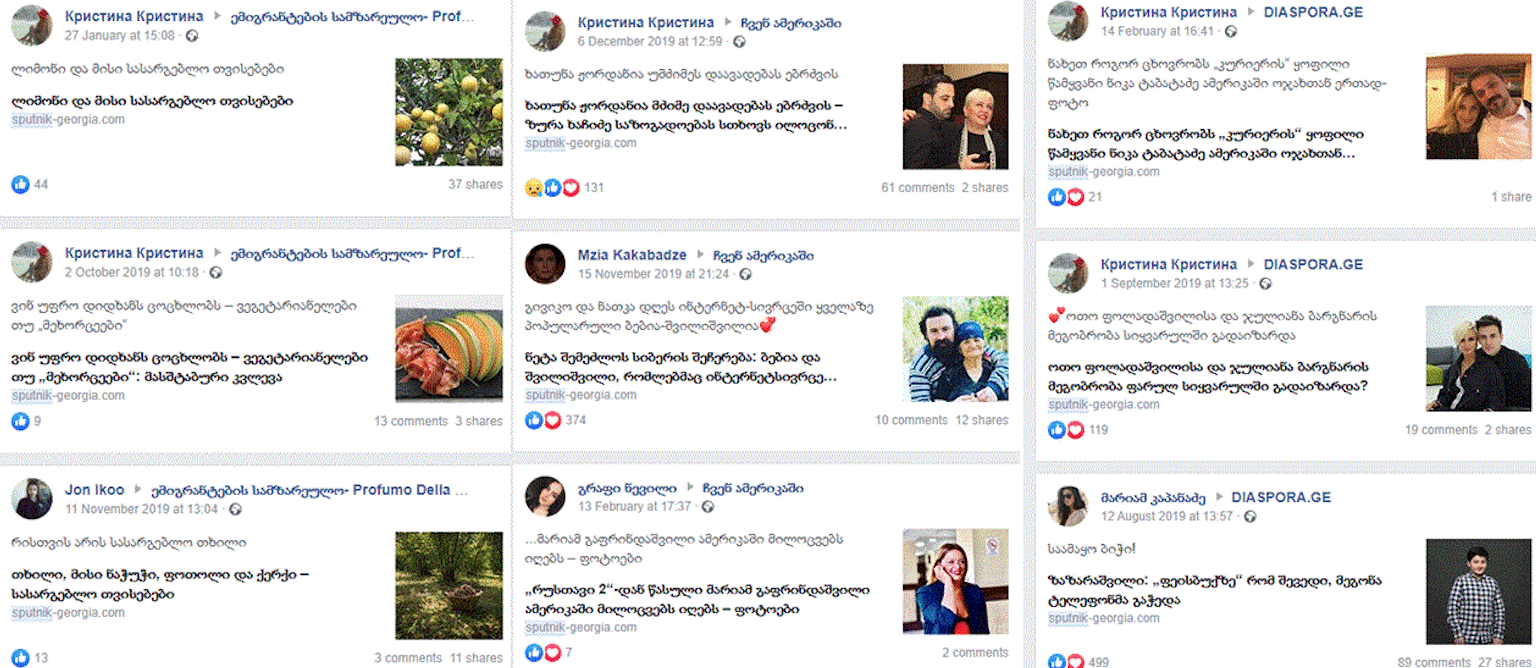 Main topics of Sputnik materials disseminated by fake accounts in public groups: Lemon and its benefits, Khatuna Zhordania is fighting a grave disease See how a former TV host, Nika Tabatadze lives in the U.S. with his family, Who lives a longer life – vegetarians or those who love meat, Giviko and Natka are the most popular grandmother and grandchild on the Internet today, Oto Poladashvili and Juliana Bargnar's friendship grew into love, Benefits of walnuts, Congratulations are in order for Mariam Gaprindashvili who left Rustavi 2 and lives in the U.S., A boy that we can be proud of - Alexander Zazarashvili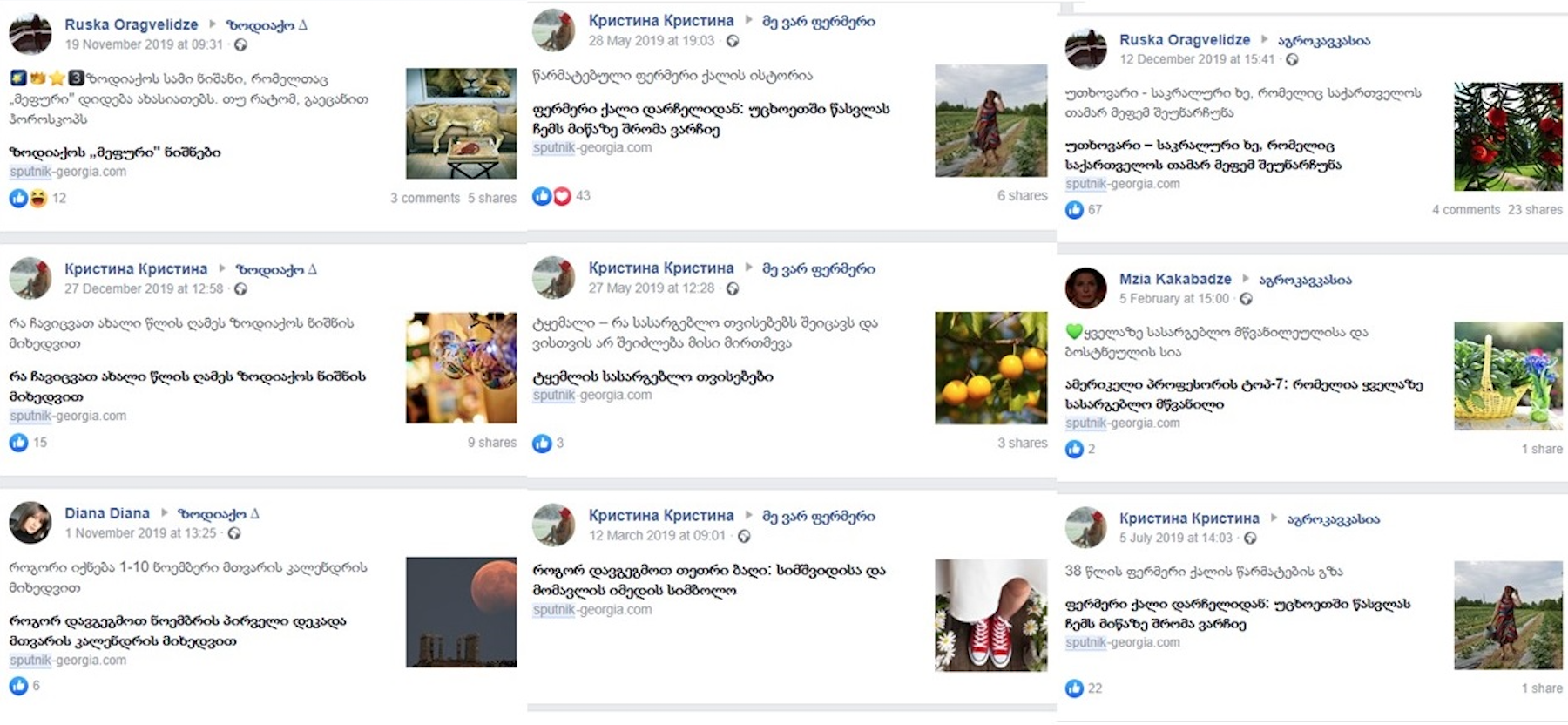 Main topics of Sputnik materials disseminated by fake accounts in public groups: Three zodiac signs with regal glory, History of a successful farmer, Yew – a sacral tree preserved by King Tamar in Georgia, What to wear at New Year's Eve according to your zodiac, Wild plums – its benefits and when it shouldn't be consumed, List of all beneficial greens and vegetables, November 1-10 according to moon calendar, How to plan a white garden – a symbol of peace and hope for the future, A 38-year old farmer's road to success.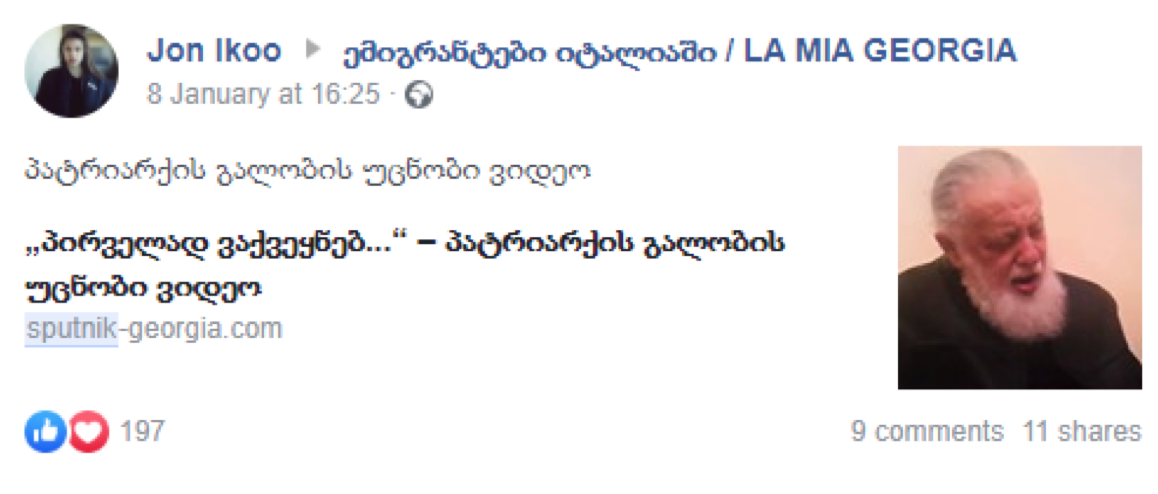 Post text: Unknown video of Patriarch chanting
Sputnik article headline: "I am publishing it for the first time..." – unknown video of Patriarch chanting
. . . . . .
ISFED has also found that dissemination of Sputnik's content under such scheme takes place in closed groups as well, however this report only documents results of monitoring public groups since it is impossible to observe closed groups due to absence of an appropriate monitoring tool.
Notably, in addition to Georgian language groups, coordinated and inauthentic dissemination of Sputnik content was also found in Russian language groups that have been created around topics concerning Georgia. At this time, ISFED has identified 29 Georgian and 12 Russian open groups with a total of 1,219,885 members. Fake accounts associated with Sputnik are possibly abusing these groups to disseminate desirable information. Such actions are effectively disguised, which is encouraged by the lack of possibility to analyze Facebook groups due to the fact that systemic monitoring of closed groups is essentially impossible.
. . . . . .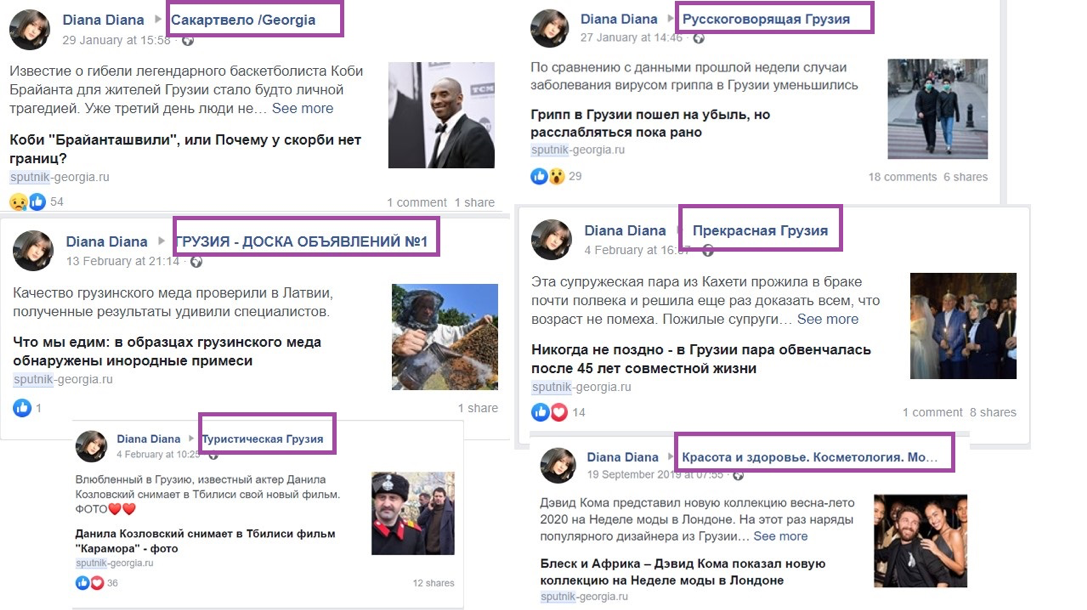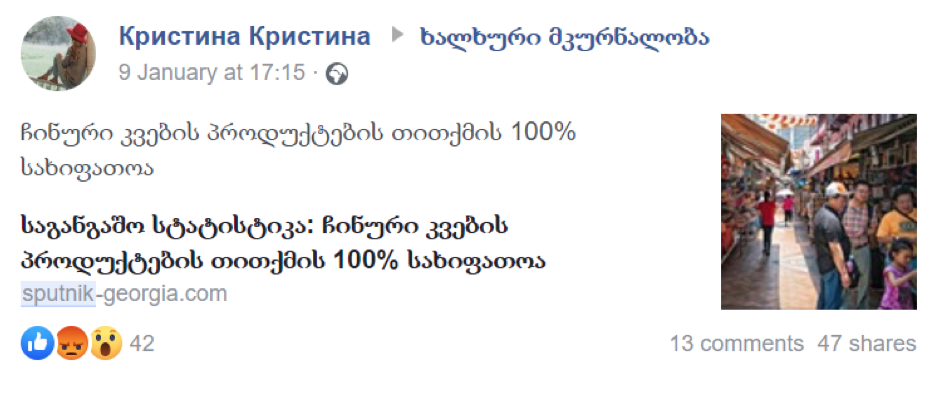 Post text: Almost 100% of Chinese food products are dangerous
Sputnik article headline: Alarming statistics: nearly 100% of Chinese food products are dangerous
. . . . . .
In order to spread Sputnik's materials, among Georgian language open groups, fake accounts also use groups with political content and character that are associated with the ruling party leaders, Kakhi Kaladze and Bidzina Ivanishvili.
They are also using the group called "Giorgi Margvelashvili is listening, friends" for dissemination. For instance, as of February 11, in the group called "Kakha Kaladze Tbilisi Mayor", a total of 254 Sputnik articles were shared during the period of one year by fake accounts identified by ISFED.
. . . . . .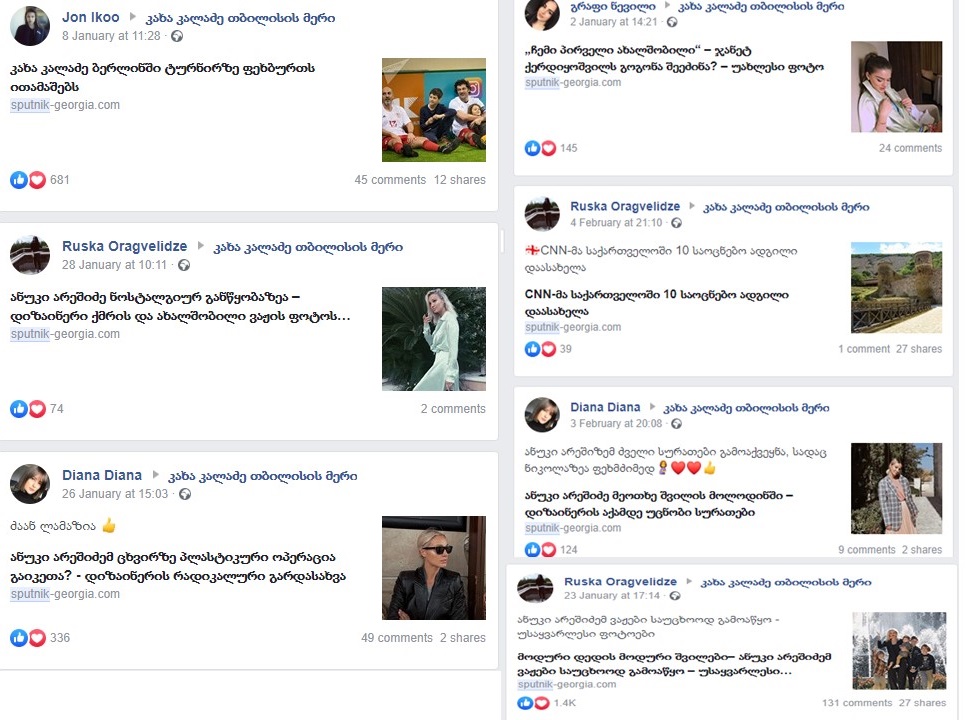 Main topics of Sputnik articles disseminated by fake accounts in the group "Kakha Kaladze Tbilisi Mayor": Kakha Kaladze will play football at a tournament in Berlin, My firstborn – did Janet Kerdikoshvili have a baby girl – recent photo, Anuki Areshidze is feeling nostalgic – the designer is publishing a photo of her husband and her newborn, CNN named Georgia among 10 the dreamiest places, Did Anuki Areshidze have a nose job? Radical transformation of the designer, Anuki Areshidze published old photos from when she was pregnant with Nikola, Anuki Areshidze expecting her fourth child – unknown photos, Anuki Areshidze dressed her sons in a remarkable way – cute photos, Fashionable kids of a fashionable mother – Anuki Areshidze dressed her sons in a remarkable way
. . . . . .
Analysis of Sputnik-associated fake accounts and their behavior clearly suggests that the Facebook is abused in Georgia to disseminate and increase audience of Georgian materials of Sputnik that operates under the umbrella of Kremlin's news agency Russia Today. Accounts associated with Sputnik are targeting Facebook users with different interests in a selective and targeted manner, and deliver to them information with a neutral form and content. This creates an organized infrastructure for Kremlin's information operations and Facebook users are caught in Sputnik's information trap without their informed consent.
Considering that Georgia is at the frontline of Russia's information war, any coordinated inauthentic behavior using social media platforms is threatening and directed at information vulnerability of users. These operations may aim to cultivate trust of citizens toward Kremlist news agencies, to relax their attention, or collect their information. All these, increase the threat of influence of Russian disinformation in Georgia, ahead of the 2020 parliamentary elections.
Note: the article has been updated on April 23. Originally it noted 17 inauthentic accounts, which has been updated to 26 inauthentic accounts identified.