Coordinated Disinformation Scheme on Facebook

Almost a year ahead of the 2020 parliamentary elections, disinformation campaign is getting traction on Facebook and one of its primary targets are civil society organizations and activists.
These organized campaigns illustrate that anonymous actors behind them are using disinformation messages formulated in advance, aiming to trigger sharply negative reaction of the society and flare up antagonistic feelings toward civil society activists and organizations.
ISFED studied anatomy of one of such campaigns and identified several subjects of suspicious coordinated behavior that are waging smear campaign in an organized and highly coordinated manner.
On October 17, Transparency International – Georgia published analysis of the 2020 budget of Georgia, which contained critical opinions about increase of pensions and other budget spending in the context of the 2020 elections.
Chairman of the parliamentary health committee, Akaki Zoidze, criticized the research alleging that the organization's recommendations to the authorities was "not to dare to increase pensions".
These remarks of Akaki Zoidze were published by several false media pages on Facebook, minutes apart, with the primary message being the disinformative remarks – "do not dare to increase pensions".
In several hours, alongside the manipulative message box, anonymous discrediting pages on Facebook published manipulative photo contents for disinformation purposes, ascribing degrading remarks about pensioners to Eka Gigauri.
Two different versions of the manipulative photo were published by the two interconnected Facebook pages – They Want Two Bodies and You Were There and You Should Have Done It. Similar post was published by the page called Political Dumpster.
Later, pages You Were There and You Should Have Done It and Political Dumpster removed these posts possibly to delete any trace, in order not to create suspicions of Coordinated Inauthentic Behavior on their part, which is strictly prohibited by Facebook standards.
ISFED discovered that anonymous pages called They Want Two Bodies, You Were There and You Should Have Done It, Political Dumpster and Political Humor are closely connected and they attack opponents an organized manner using common messages. Targets of such attacks are representatives of critical media, civil society activists or non-governmental organizations.
The connections between these pages are illustrated by the analysis of Facebook groups related to them. These are the Facebook groups called Win[1] and News[2] with a total of 439,854 members as of October 21. The chart below identifies their administrators as of October 21. Just by looking at these groups it becomes clear that both are administered by the same profiles and pages. For each group, out of 7 administrators, only two differ (anonymous discrediting sites). Administrators of Win include, among others, They Want Two Bodies[3] and You Were There and You Should Have Done It[4]. Instead of these two discrediting anonymous pages, another group called News is administered by Political Dumpster and Political Humor. Page Political Laundromat[5] is also connected to these pages as it publishes identical posts.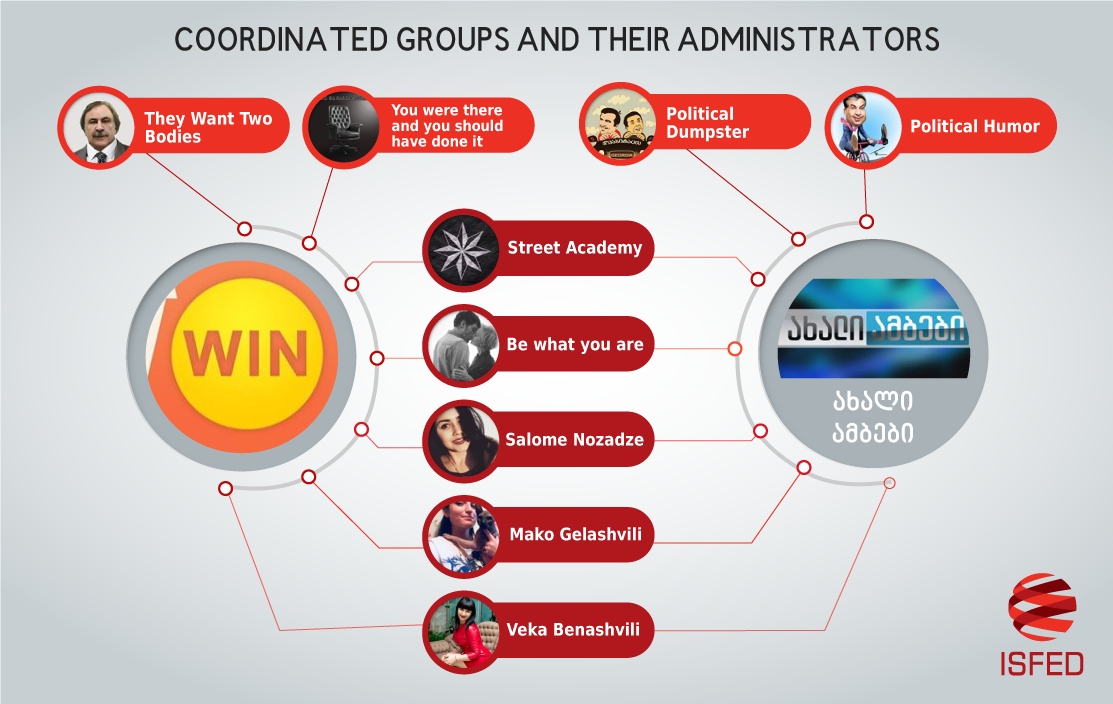 In addition to administering the same groups, these pages also have other distinct features in common, indicating organization and high level of coordination:
Anonymity – all pages are anonymous, i.e. it is not known who manages them.
Identical posts – posts published on these pages are nearly identical in terms of contents and images used and they aim to disseminate common message box.
Sponsoring – these pages use selective sponsoring of similar posts, in unison or alternating between each other.
Simultaneous distribution of posts – these pages publish identical posts as original content of the page, one after the other, with only minutes apart (these posts are not shared between pages but rather, posted as original content by each site).
A clear example of Coordinated Inauthentic Behavior of these pages is their activity on June 26-27, 2019, when identical photos were posted by these pages. The photos feature a range of opposition leaders labeled as "should be arrested".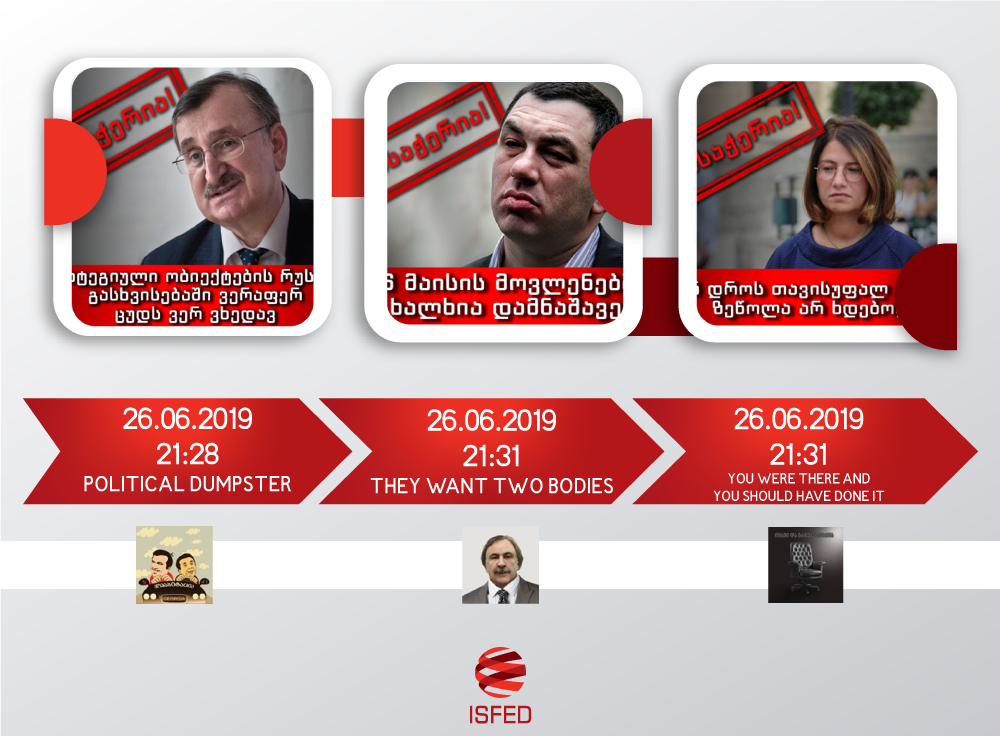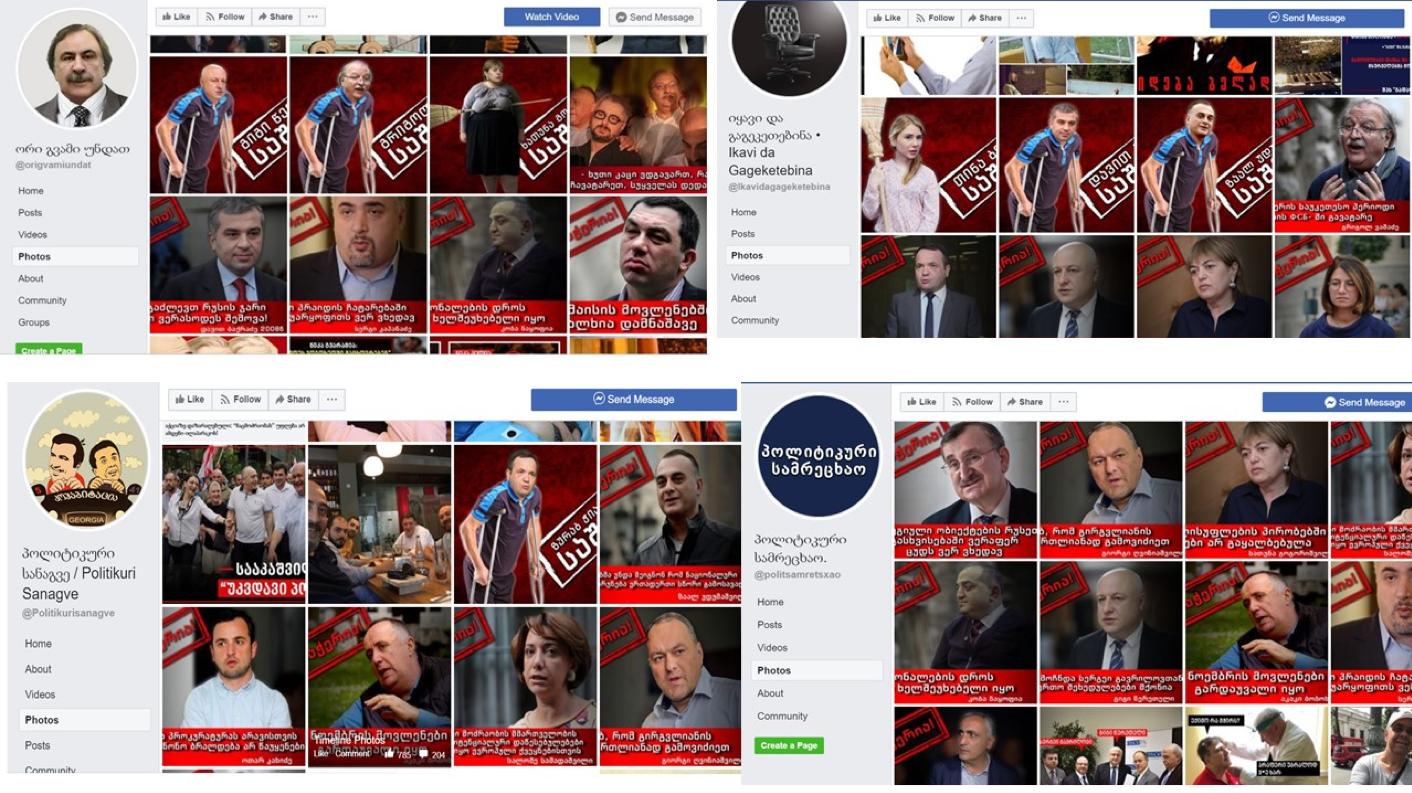 ISFED calls on Facebook to study and verify behavior of these pages and individual Facebook profiles related to them, and take corresponding measures if violation of standards of the platform are confirmed.
-----
[1] Group ID - 817232555061790
[2] Group ID - 436291883221548
[3] Page ID – 262076164502470
[4] Page ID – 2030390237233346
[5] Page ID - 834186396940918