Smear campaign on Facebook ahead of Mtatsminda elections

Facebook serves as an important platform for political activity in Georgia, which political parties, candidates and support groups are using as a powerful weapon for spreading information that advances their interests. This includes political interest groups active on Facebook that are abusing advantages of this platform bypassing political financing and campaigning limitations as well as transparency obligations and managing to influence elections anonymously, by waging sponsored smear campaigns that harm opposing candidates.
The 2019 parliamentary by-election in Mtatsminda District is highly competitive. The two candidates competing for the parliamentary seat are the ruling party candidate, Vladimer Kakhadze and the electoral bloc European Georgia – Free Democrats candidate Shalva Shavgulidze.
Similar to the 2018 presidential election, the May 19 by-election took place amid intensive discreditation and disinformation campaign on Facebook, mostly focusing on Zugdidi and Matsminda districts.
Following the first round in Mtatsminda District, the smear campaign against opposition candidate Shavgulidze became especially active. Several anonymous pages are also publishing posts against Lado Kakhadze but these posts are much fewer. These are the very same sites that engaged in sponsored campaign against candidates and parties during the 2018 presidential elections. ISFED social media monitoring interim reports provide a detailed account of their activities.
Lado Kakhadze is targeted by sites that are affiliated with the UNM and that are active against the Georgian Dream in general, Bidzina Ivanishvili and current government. Discrediting posts against Kakhadze are mostly satirical and spiteful but they are sporadic and not sponsored. Therefore, these posts tend not to have a lot of reactions, shares or comments.
Click ''Present'', after that the right button to view posts
The smear campaign against Shalva Shavgulidze is organized. Discrediting pages are working in a coordinated manner and using cohesive messages to publish manipulated photos and videos targeting this particular candidate, making him seem like a candidate that is working conspirators of crimes committed when the UNM was in power, calling him names and morally scolding him. Often his comments that are taken out of context and distorted are featured on different photos and his interview snippets are featured in video posts.
Several videos published by discrediting sites that target Shavgulidze have been prepared by POSTV and they are made visually more appealing, while some posts are reports aired by Imedi TV news programs (for instance, an interview with and a report about Sulkhan Molashvili's father), accompanied with some coarse language against the candidate.
Notably, Facebook hid several posts published against Shavgulidze featuring violent content because they were against Facebook regulations and standards.
Click ''Present'', after that the right button to view posts
Additionally, several days prior to the election, on June 5, at least 4 pages posted a video with identical content but different duration and different accompanying text, created for discrediting Shalva Shavgulidze. These posts had the status of an active advertisement as of June 6.
Below is a chronology of the videos published:
მახსოვს/Makhsovs - at 18:22
პოლიტიკური სააშკარაო - at 18:52
პოლიტიკური სამრეცხაო - at 18:53
ჩაერთე განხილვაში - at 19:32 (June 5)
In addition to the discrediting sites, posts about Shavgulidze were also published and sponsored by "false media" pages, however instead of using crude language against the candidate, the posts are accompanied with texts meant to change voters' opinion of the candidate. For instance, a page called Ontime.ge published a post about Shavgulidze on May 23, featuring a photo captioned that the candidate was thanking Mikheil Saakashvili for support. The post description has the same subtext. Notably, on May 23, the same page published four different informational posts but only the post about Shavgulidze was sponsored. The post has a total of 676 reactions, while other posts published the same day have no reactions, comments or shares.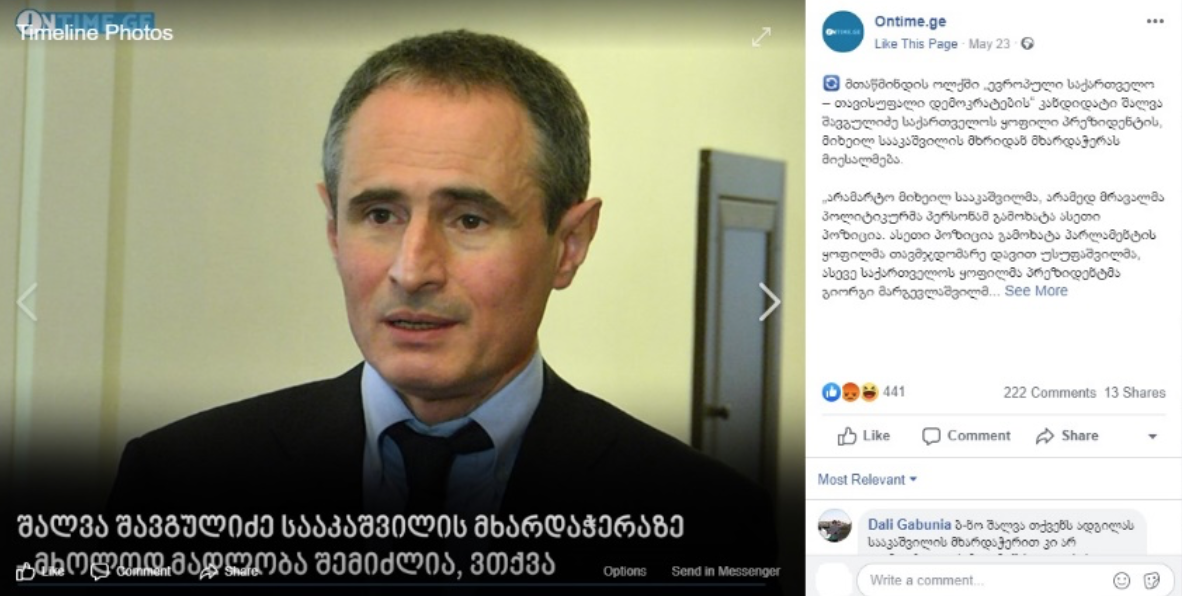 The campaign against opposition candidate Shalva Shavgulidze on Facebook is clearly organized and coordinated, as demonstrated by similar posts and cohesive messages meant to harm the candidate, disseminated by false media sites and discrediting pages. Additionally, the Facebook campaign targeting Shavgulidze features a number of POSTV and Imedi TV reports, and the main context is created from materials prepared by them against Shavgulidze.
The main tool of the smear campaign targeting the candidate, in a possible attempt to influence voters, is sponsoring discrediting posts. Undeclared expenses made to this end essentially amount to illegal donations according to the election legislation. The fact that the State Audit Office is unable to conduct financial monitoring of the origin of these funds spent on advertising on Facebook remains a challenge, which has a harmful effect on the electoral environment.