Creating an Alternative Reality in Georgia: False Media Pages on Facebook

During the 2018 presidential election, as part of its social media monitoring, ISFED discovered 19 Georgian language false media pages on Facebook. This number has increased after the election, with 32 false media pages operating as of January 22. While the names used by these pages suggest that they are news agencies, in reality, their purpose is to generate alternative information on social media through sponsored posts that are selective in nature and serve a specific political agenda. Selective information disseminated by these pages is largely focused on casting the government in positive light and discrediting its opponents, however they do not shy away from spreading false news either.
False Media at a Glance - Illusion of reliability
False media pages use names, profile pictures and visual design that creates an impression of an online media outlet. Sometimes their name is similar to that of a real media organization. For instance, one such page – Meskhetis Karibche (Gate to Meskheti) can easily be confused with a real media organization operating in Samtskhe-Javakheti region called Samkhretis Karibche (Gate to the South). Posts published by Meskhetis Karibche are often openly political.
Posts by Meskhetis Karibche1
As a rule, the false media pages describe themselves as media organizations. Some of them claim to operate since 2013-2015, however, all of these pages were created on Facebook in November, 2018.
Self-descriptions provided by false media pages2
None of the false media pages have a separate, functioning websites. While some of them do offer a link to a website, none of these links are valid. In some cases, contact information is also provided. However, these phone numbers are all repetitive in style (e.g., 598 98 98 98 or 574 74 74 74) and almost none of them are functional. The only functioning number had ISFED speak to a person who denied any connection with the mentioned news page.

Contact information indicated on false media pages
False media pages before and after the election
The activity of various types of discrediting Facebook pages decreased following the 2018 election. False media pages was the only group monitored by ISFED which actually increased its activity in December 2018 suppressing the peak activity of election period. This was mainly caused by the appearance of new such pages. 7 new pages were created in December, 4 of them on the same day – December 10. As of January 12, ISFED had identified 27 false media pages on Facebook, which together were liked by 116,840 users. From June 1, 2018 to January 12, 2019, these pages published a total of 5,986 posts, with at least 120 posts being sponsored during the election campaign period.

Activity of false media pages in the period from June 1 to December 31, 2018 – Number of posts per week
10 of the false media pages were active during the first round of presidential election. 4 of them were created in 2014-2015, while the rest appeared in 2018, of which 3 were created after the election date was announced. In the period between the first and second round of the election, 10 more pages appeared. This process started on November 2 and the last of such false media page ahead of elections Mypress.ge was created on November 25.
False media pages during the first and second round of election (Social Media Monitoring - Second Interim Report by ISFED)
After the presidential election, a total of 12 new false media pages were created on Facebook, 5 of which appeared in January, 2019. Even though these 5 pages have a low number of likes (between 5 and 280), this does not prevent them from reaching a wider audience, since all of them together with other false media pages actively sponsor their content.
False media pages created after the presidential election (as of January 22, 2019)
Information Page is the false media page with the highest number of likes and followers (more than 55,400 likes and up to 60,000 followers). The page was created on February 4, 2014, before the local self-government election,under a different name – European Choice. The page changed its name 9 times during its first month of operation. On February 20, the page was called Self-Government Elections / Georgian Dream. The following day the name was changedto Georgian Dream / Self-Government Elections, which was kept until February 26. The name change history of the page suggests that this false media page might be carrying Georgian Dream interests. It also points to the fact that the tactic of spreading false and discrediting information during elections was used as early as the 2014 local government election. According to Facebook, the page is currently managed by 10 people.
Name change history of 'Information Page'
| | |
| --- | --- |
| Date | Name Change History |
| 04.02.2014 | Evropuli Archevani / European Choice |
| 05.02.2014 | Evropuli Archevani |
| 07.02.2014 | Sainpormatsio Gverdi (Information Page) |
| 20.02.2014 | Local Government Election |
| 20.02.2014 | Local Government Election / Georgian Dream |
| 21.02.2014 | Georgian Dream / Local Government Election |
| 26.02.2014 | Sainpormatsio Gverdi |
| 26.02.2014 | Sainpormatsio Gverdi / Information Page |
| 02.03.2014 | Siakhle.com / News. Com |
| 02.03.2014 | Sainpormatsio Gverdi / Information Page |

Activity of 'Information Page' in the period from June 1 to December 31, 2018 – Number of posts per week
Information Page was the most active false media page during the first round of the 2018 presidential election. Its activity started to increase with the launch of the election campaign on August 29. In October, the page doubled its activity, and reached a peak in November, after the first round of the election. The page published 384 posts over a period of one month prior to the first round of election, and 784 posts during the month between the first and second rounds, of which 237 posts were published in the final week before the second round (November 21-27). The page published 19 and 41 posts on the first and second round election days, respectively. ISFED monitors found 62 posts during the election period that were sponsored by Information Page.
Sponsored posts published by the 'Information Page' during the official election campaign3
False Media Strategy: discrediting opponents and promoting government
All false media pages employ the same strategy. They mostly publish high quality photos and videos. Many of the pages publish posts with similar messages and content, suggesting that, these pages are coordinated and inter-connected. The main strategy used by these pages is mass sponsoring of political content, which enables them to reach a wide audience.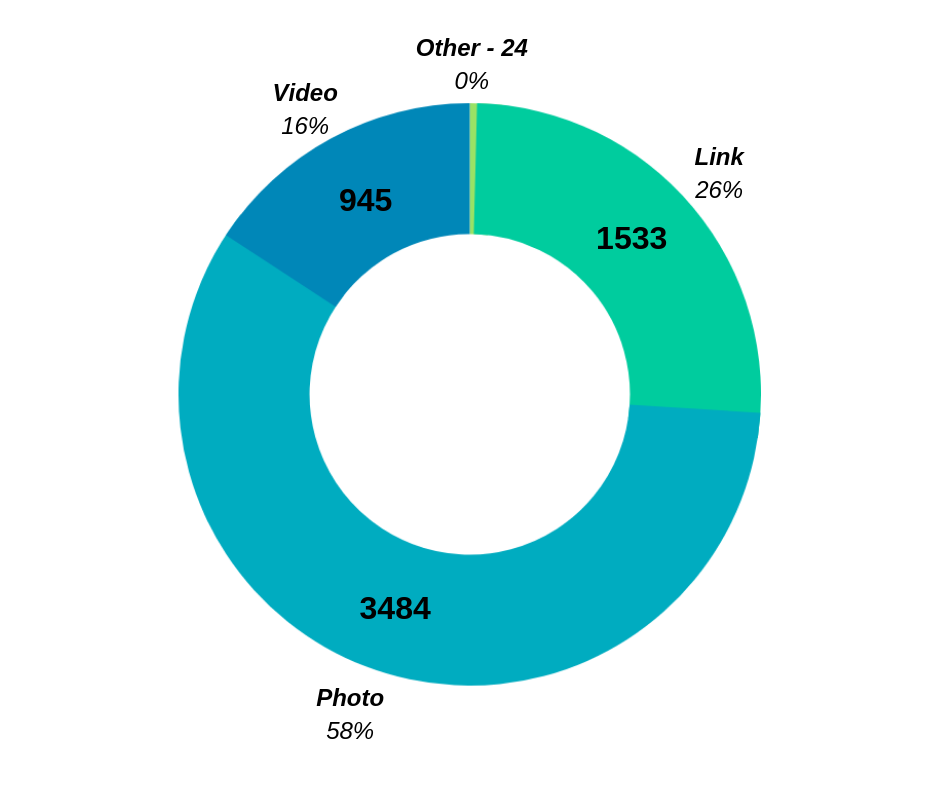 Types of posts published by fake media pages
Discrediting Content: False media pages that existed before the launch of the 2018 election campaign were mainly engaged in discrediting opposition, civil society and other actors with critical opinions of the government. As the Election Day drew closer, the number of anti-opposition candidate posts, mainly against Grigol Vashadze, increased, of which a significant part was sponsored. This activity increased dramatically for the second round of election.
Posts published before and during the election campaign4
Supporting Government: In addition to content with discrediting messages against critics of the government, false media pages also publish pro-government posts. For instance, on November 19, 2018, after Prime Minister Mamuka Bakhtadze announced about the initiative of debt write-off for 600,000 citizens, all false media pages active at the time launched an active campaign supporting the initiative, with a large number of sponsored posts. Moreover, many of the pages used very similar photos, messages, logos and colors as content of their posts.
Sponsored campaign supporting the initiative to write off unpaid bank loans5
In parallel to sponsored posts supporting the government, Bidzina Ivanishvili and Cartu Fund, false media pages organized a campaign against Vivus.ge, a micro-finance company that refused to take part in the initiative, saying that the company's decision was linked with opposition parties United National Movement and European Georgia.
"Vivus, one of the companies which refuses to write off unpaid bank loans, belongs to Vladimer Gurgenidze, former Prime Minister and donor to the party European Georgian."
False news: Spreading false news about the election was another method used by false media pages. A few days before the first round of presidential elections some false media pages reported that political parties of the "Strength is in Unity" coalition conducted an in-house survey, according to which, Salome Zurabishvili was supported by more than 50% of voters. This information was not reported by any reliable media organization.
Posts published by Information Page about the survey conducted by political parties6
Following the election, false media pages focused on congratulatory messages received by Salome Zourabichvili, while also publishing content discrediting the "United National Movement". Later, after new pages were activated on Facebook, their posts also included non-political news; however, all sponsored posts were still either supporting the government or discrediting its critics. These pages actively sponsored posts about the projects planned or implemented by the government.
In January, false media pages launched a discrediting campaign against Eka Beselia, Member of Parliament and former Chair of the parliamentary Legal Issues Committee that had a falling out with "Georgian Dream" leaders and the Speaker of Parliament. Following MP Beselia's criticism of the process of selection of Supreme Court judges and her resignation from the position of parliamentary committee chair, false media pages reported that the ruling party was planning to expel Eka Beselia and published sponsored posts accusing her of taking bribes. Interestingly, MP Beselia was also criticized by Bidzina Ivanishvili, leader of the "Georgian Dream" party.
False media pages also targeted the founder of TBC Bank, Mamuka Khazaradze after the Prosecutor's Office launched an investigation against him. False media pages on Facebook actively sponsored posts aimed at fueling negative public attitude towards Mamuka Khazaradze.
Posts published by pages created after the election7
Challenge to not only elections
False media pages on Facebook provide users with pro-government, biased, unreliable and, in some cases, false information about ongoing events in the country. They never report anything that is critical of the government, while publishing posts that discredit its opponents, almost all of which are sponsored. Considering the above, it is obvious that false media pages in Georgia are used to provide Facebook users with information that is biased and pro-government, and to influence public attitude towards various ongoing processes in the country.
False media pages on Facebook became especially noticeable during last year's presidential election. However, it is evident that this challenge in the Georgian social media space will persist beyond the election period. The increasing number of false media pages and their sponsored posts following the presidential election suggests that this method has been selected as a weapon to gain political advantage and influence public attitude. The purpose of this organized operation is to establish politically biased, fake pages as an influential source of information for social media users, in order to ultimately modify political discourse and set the agenda that is in favor of those that are behind these pages.
| | |
| --- | --- |
| | Social media monitoring pilot project is implemented with financial support from the Embassy of the Kingdom of the Netherlands in Georgia. Opinions expressed in this article may not necessarily reflect the position of the donor. |
----------
[1] Photo 1: "#NoToNatsis #NoToVashadze #NoToRevanchists – Vano Merabishvili's parents appeared in the streets of Akhaltsikhe once again. They intimidate people, threaten them, and make them vote for Grigol Vashadze and take photos of their ballots as proof. Even though the region no longer trusts the National Movement, they still threaten the population with arrests."
Photo 2 – "This is how they treated peaceful population, do not forget!!!!!!"
[2] "AllPress.Ge: Allpress.ge is a news agency that was created in 2013 with the support of the EU media Center. Our team monitors ongoing events in the country and reports on it to the public;
Fastnews.ge: Fastnews.ge - Fast, flexible, convenient information in social media;
Globalinfo.ge: Globalinfo.ge was founded with the help of globalmediahub. The information agency operates throughout Europe. Our goal is to provide up-to-date information about regional matters;
NEWSHUB.GE: Newshub.ge is an information agency that provides up-to-date information to social media users. Newshub.ge was founded in 2015 and tries to hold a leading position on social media;
Newspaper.ge: Newspaper.ge - Information agency that provides up-to-date information in any region of Georgia;
Todaynews.ge: Todaynews.ge - 'Information that you need' is the slogan that best describes the goals of our team. We are in your service since 2015."
[3] Photo 1: Natia Turnava - The whole region of Samegrelo region will have access to natural gas in two years time
Photo 2: Archimandrite Bartlome's comment on Saakashvili-Ugulava reconciliation: "These people are united with a broom"
[4] Photo 1: "Politicians that have endorsed Gregory Vashadze"
Photo 2: " 'Instead of taking part in the election, the National Movement regime should have been convicted', - states Keti Khardziani, daughter of businessman Besik Khardziani, on social media. 'Once more we are against murderers and torturers! ...' "
Photo 3: "Member of the European Parliament Victor Bostinaru: 'Former Russian Ambassador and candidate of the National Movement is not acceptable as President of Georgia'."
[5] Photo 1: "Cartu Fund to Cover the Debt of 600,000 Blacklisted Citizens"
Photo 2: "The debt will be covered by Cartu Fund and not the state budget"
Photo 3: "The project that will free Georgian citizens from their debt was announced by Mamuka Bakhtadze in August; Today he fulfills the promise. Congratulations! More than 600,000 people will meet the new year debt free."
Photo 4: "Cartu Fund will cover the debt of 600 thousand blacklisted people, amounting to one and half billion [GEL]."
[6] Photo 1: "In-house survey on presidential elections of the party "Georgia Among Leaders": Who would you vote for if the elections were to be held today? Salome Zurabishvili, Grigol Vashadze, Davit Bakradze"
Photo 2: "Results of an in-house survey by party "Serve Georgia".
[7] Photo 1: "Social media users actively discuss the possibility that the negative campaign launched against the Prime Minister is connected with the initiative to write off the debt of 600,000 people. A part of Facebook users believes that the attack on Mamuka Bakhtadze will continue due to the influence of private lenders."
Photo 2: "According to the information reported on Facebook, Bidzina Ivanishvili plans to convene the parliamentary majority tomorrow and carry out the so-called 'sweep', as a result of which Eka Beselia will be expelled from the party. It turns out that for years Eka Beselia has been settling cases in the Supreme Court through sketchy means. A video recording exists, which shows her taking a bribe from Okuashvili in relation to the Omega case."
Photo 3: "[Headline] Did Mamuka Khazaradze Steal from the TBC Bank?
'The strangest and the most surprising thing about this whole thing is the title of this investigation – money laundering and legalization of illegal income, which is a loud statement for one thing, but also completely absurd in this case, since the case involves one person borrowing money from another.' – claims Zviad Kordzadze, lawyer of Mamuka Khazaradze. We would like to remind you that an investigation has been launched against TBC Bank. It is a common belief among the public that Mamuka Khazaradze stole from his bank to benefit the same bank."
Photo 4: "[Headline] Did Mamuka Khazaradze and Badri Japaridze Steal from the TBC Bank to Benefit the same Bank?
According to Mamuka Khazaradze's lawyer, the TBC related case concerns one person borrowing money from another. Zviad Kordzadze: 'It is portrayed as if this money was taken somewhere. In reality, not only this 17 million, but up to 80 million in total, which was mobilized then, was used to increase the liquidity of TBC Bank itself.' According to information reported on the internet, this statement by Mamuka Khazaradze's lawyer is removed from reality, since taking money from a bank in order to benefit said bank is absurd."