Facebook Prime Minister

On September 2, the Georgian Dream's fourth prime minister, Mamuka Bakhtadze resigned by releasing a statement on Facebook. Bakhtadze's farewell on Facebook was somewhat symbolic considering that his entire tenure was accompanied by sponsored posts from different anonymous page on Facebook, praising Mamuka Bakhtadze and his initiatives.
The campaign in support of Mamuka Bakhtadze began in June 2018, immediately after he assumed the office of the Prime Minister. During the same period, individual Facebook pages engaged in a campaign against his predecessor, Giorgi Kvirikashvili. Upon Kvirikashvili's resignation a new Facebook page was created called "Giorgi Kvirikashvili's team", with the sole purpose of discrediting the former official (the page no longer exists now).
A range of different pages was operating to portray Mamuka Bakhtadze in a positive light. ISFED monitoring of social media found 10 pages that actively support Mamuka Bakhtadze on Facebook. These are the following pages: Nationalist's Page; National Idea Freedom; I am proud to be a Georgian; Georgian State; Traditions are our wealth; newshub.ge; mynews.ge; Information Page; Association of Mountain People; Mamuka Bakhtadze's Supporters.
Association of Georgians 'Iberia'
Prime Minister of Georgia Mamuka Bakhtadze resigned today. Despite my attitude toward politics, I feel sad that he's leaving because I think he was the only person in politics, who was not driven by his own interests and was striving for common welfare. Public felt positively about him. I hope that his patriotism, his attitude toward his job and the fact that he always looked at problems from people's perspective will not go unnoticed...
Text on Photo: Prime Minister without any negative in the population has resigned.
Additionally, posts that supported Mamuka Bakhtadze periodically appeared on other pages, including false media pages, as well as pages that disseminated nationalist narrative. It seems that the purpose of the campaign supporting Mamuka Bakhtadze was to portray him as a true patriot, as a prime minister who cares about people and enjoys public support.
Posts that aimed to portray the prime minister in a positive light have certain characteristics in common. They were mostly sponsored, in an attempt to attract the attention of Facebook users, including ones who were not subscribers of a particular page. Therefore, such post reached audience larger than the number of subscribers of the particular page. These pages shared similar pathos, design and texts and in some cases, they posted identical texts and images. Moreover, often such posts were published simultaneously, indicating that these pages were organized and linked with one another.
Posts appeared thematically on Facebook, following Mamuka Bakhtadze's statements, meetings or other activities. Often posts about the former prime minister didn't contain any valuable news but rather, it was clear that their primary objective was to promote Mamuka Bakhtadze instead of providing public with some news. Some pages published posts supporting Mamuka Bakhtadze from admins' point of view, as first-person narratives. Author of the post often underlined that s/he was not involved in politics at all but very much approved of Mamuka Bakhtadze's particular initiative.
Below are several examples:
On August 6, former prime minister unveiled a program for pensioners, socially vulnerable people and persons with disabilities to purchase certain medication for treatment of chronic disease for GEL 1. The same day, the information was disseminated through sponsored posts on Facebook.
Photo 1: Information Page

According to the prime minister, the program has been launched throughout Georgia and these medications are available for purchase in 188 drugstores.

Photo 2: Mamuka Bakhtadze's supporters

Mamuka Bakhtadze – "we already have a concrete result, according to which our pensioners and different groups will be able to purchase medications that they need for a symbolic price of GEL 1.

Photo 3: Georgian State

Good! You were able to do it! You are doing a great job! Leave those [profanity] liberals alone and take care of people. In that case, we'll stand by you.

Photo 4: National idea freedom

For pensioners, socially vulnerable people and persons with disabilities, 35 different types of medications will cost GEL 1. The decision was made by Mamuka Nakhtadze. It is great that on the difficult road to overcoming poverty, this person is trying to...
Similar activity was also evident in January 2019, following an announcement that antiviral medication Tamiflu would be provided to everyone for free. This news was immediately followed by a large-scale sponsored campaign on Facebook. Different pages published similar posts, in which Mamuka Bakhtadze's decision was portrayed as a decision "for the people" and "for the nation", while contents of some posts and their visual design with nearly comical pathos, portrayed him as a savior and a guardian of Georgia.
Association of mountain people

Tamiflu will be free for all citizens of Georgia.

This is the right decision made at the right time.

Political Humor

Tamiflu to everyone!

Text on photo: Free Tamiflu to everyone!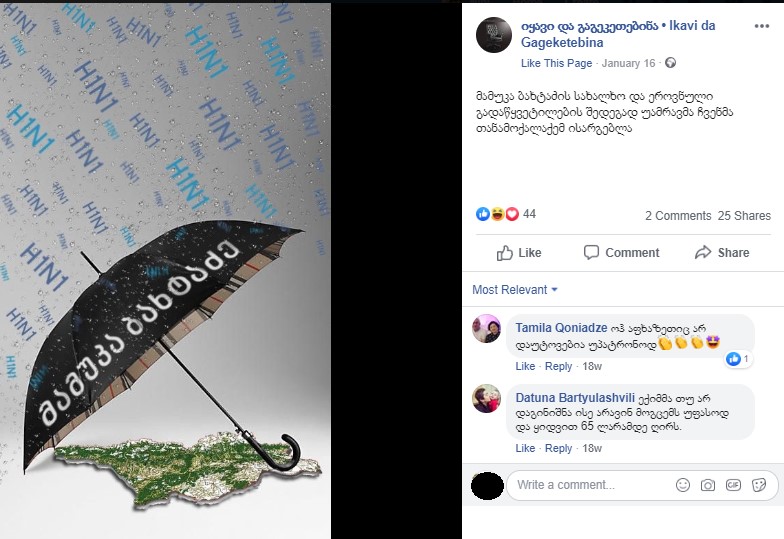 You were there you should've done it - Ikavi da Gageketebina
Many of our fellow citizens have taken advantage of the national decision made by Mamuka Bakhtadze for the benefit of people.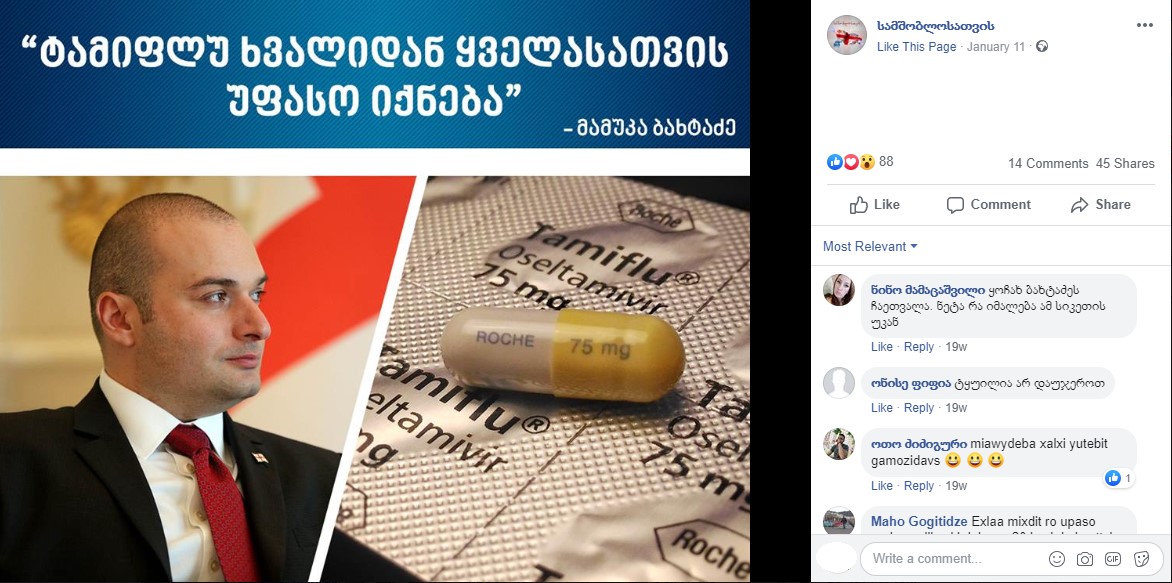 For the Homeland - "Starting from tomorrow, Tamiflu will be free for everyone" – Mamuka Bakhtadze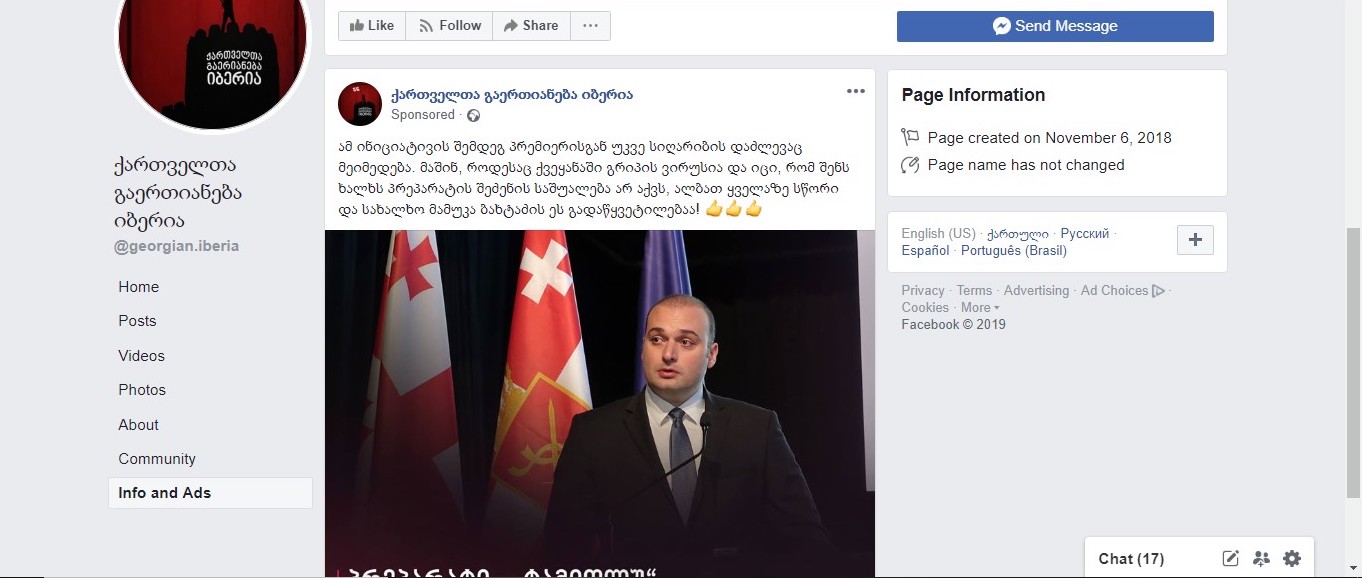 Association of Georgians 'Iberia' - Following this initiative, I really am hopeful that the prime minister will overcome poverty. When there is a virus in the country and you know that your people cannot afford to buy the medication, this is probably the best decision to make for the people.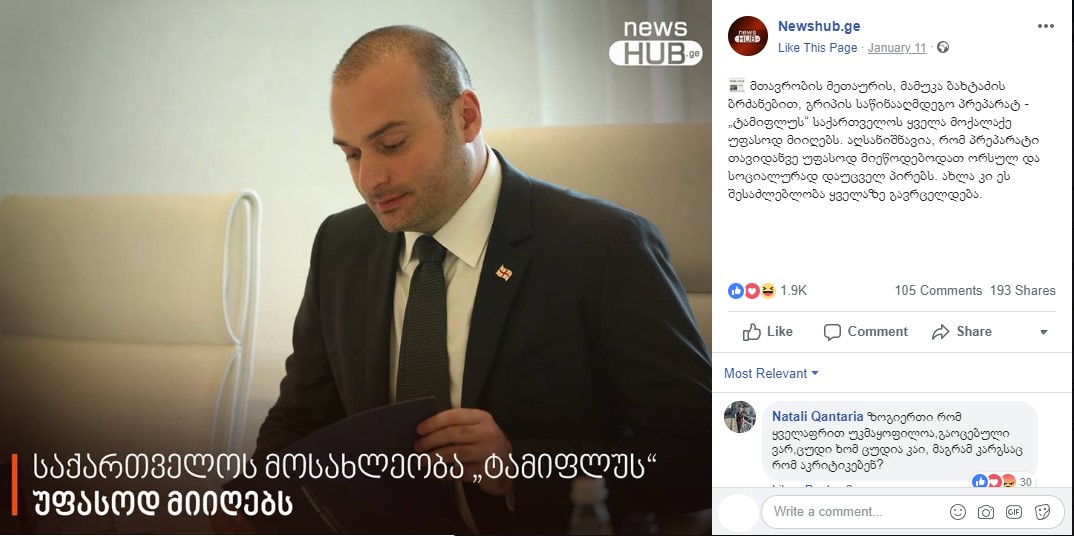 Newshub.ge - Georgian population will get Tamiflu for free
Under the order of the head of the state, Mamuka Bakhtadze, all citizens of Georgia will receive antiviral drug Tamiflu for free. Notably, the drug was already provided to pregnant and socially vulnerable people for free and now others will also be able to enjoy this opportunity.
These Facebook pages became especially active following a meeting between the prime minister and the chairperson of COSCO Shipping Corporation. The meeting was held on the sidelines of the Davos World Economic Forum on January 22, 2019. The following morning, false media pages shared and sponsored the news. Interestingly, posts published by six different pages were identical in terms of images and texts used. Moreover, the posts were published at the same exact time or within an interval of one minute. Clearly, these pages are managed in a closely coordinated manner.
6 different pages - Moambe, Info, Region.ge, MMP, Public Opinion and Hippo posted the same image with the same text:
''Mamuka Bakhtadze and COSCO Shipping corporation chairman talked about potential investment projects in Georgia. COSCO shipping expressed their desire for future cooperation and readiness to study opportunities that exist in Georgia in the field of maritime shipping. Largest state corporation of China, COSCO Shipping with its head office located in Shanghai, operates in the industry of supply chain and transportation. Its annual revenue is USD 14 million and it employees more than 21 thousand people.''
Screenshots:
On May 12, following a speech made by Mamuka Bakhtadze on Mt. Makhata, as speculations started to spread among social media users, sponsored posts appeared on Facebook explaining that his speech was broadcasted slowly due to technical problems. In addition, images used in these posts suggested that Bakhtadze's awkward speech was the result of sabotage by opponents of successful reforms.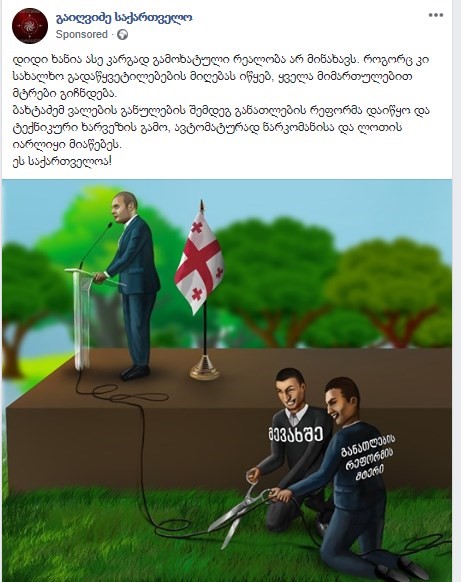 Wake up Georgia
This image illustrates the reality like no other. As soon as you start making decisions for the good of the public, you start having enemies. After writing off the debts, Bakhtadze started reforming the education system and because of a technical error, they automatically labeled him as a drug user and a drunk. This is Georgia!
Text on the photo: Loan Shark, Enemy of Educational Reform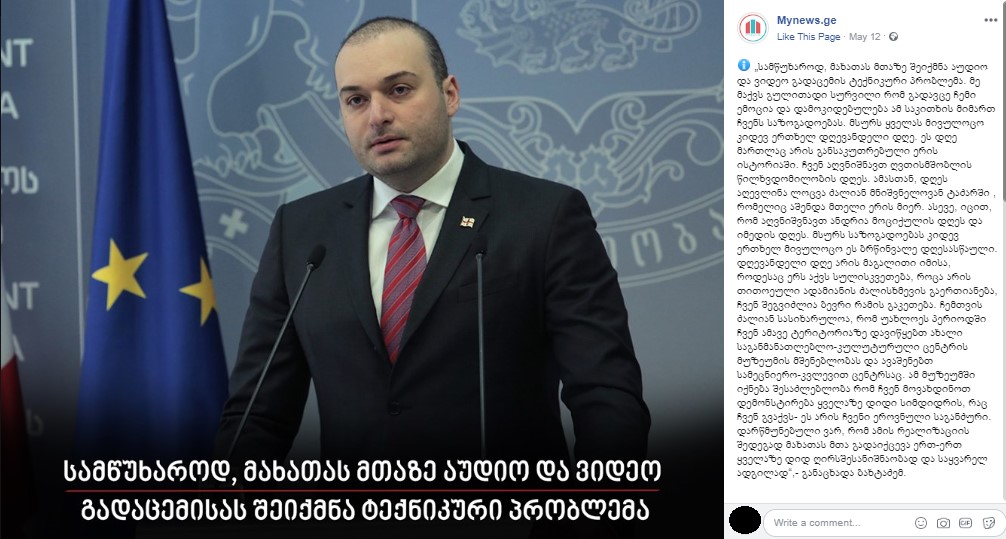 Mynews.ge
Unfortunately there was a technical problem during audio and video broadcasting at Mt. Makhata. I have a heartfelt desire to share with our society my emotion and attitude toward this issue. I'd like to congratulate to you once more on this day. It is a very special day in the history of our nation. Today we celebrate the day Georgia was allotted to Virgin Mary. In addition, today there was a prayer at a very important church built by the entire nation. You also know that today we celebrate Saint Andrew's Day and the day of hope. I'd like to once more congratulate the public on this magnificent day. Today is an example that when the nation has a common spirit, when people are united in their efforts, we can do many things. I am very glad that soon on this very territory we will begin building a museum of educational/cultural center and we will also build a scientific/research center. At this museum, we can demonstrate our biggest wealth – our national treasure. I believe that as a result, Mt. Makhata will become one of the most remarkable and favorite places" – said Bakhtadze.
Text on the image: Unfortunately, there was a technical problem during audio and video broadcasting at Mt. Makhata
Often posts published in connection to Mamuka Bakhtadze did not relate to any particular event or news but rather, they aimed to increase liking of the prime minister by posting his childhood photos or by portraying him as an eligible bachelor. All of these posts were sponsored and probably aimed to increase Bakhtadze's likability among Facebook users.
Photo 1: Mynews.ge Funny photos published on social media. Faces of famous politicians on movie posters. Text on the image: Patriot

Photo 2: Newshub.ge- According to a research published on social media, the following three pages are the most positive and growing the fastest: Page of PM Mamuka Bakhtadze; Page of singer Keti Melua; Page of a TV show called My Wife's Girlfriends.

Photo 1: Newshub.ge - Text on the image: Mamuka Bakhtadze

Photo 2: Mynews.ge - Prime Minister Mamuka Bakhtadze responded to questions of the opposition in parliament in a principled manner. Later he demonstrated Western culture toward his opponents and greeted them in an honorable way.

Photo 1: National idea freedom - How the prime minister reacted when Lasha Talakhadze broke a new record.

Photo 2: Gazzeta.ge - A photo of the prime minister's flag lapel pin has been released on social media. Unlike standard pins it has a shape of the map of Georgia, which according to social media users is a message about Georgia's territorial integrity.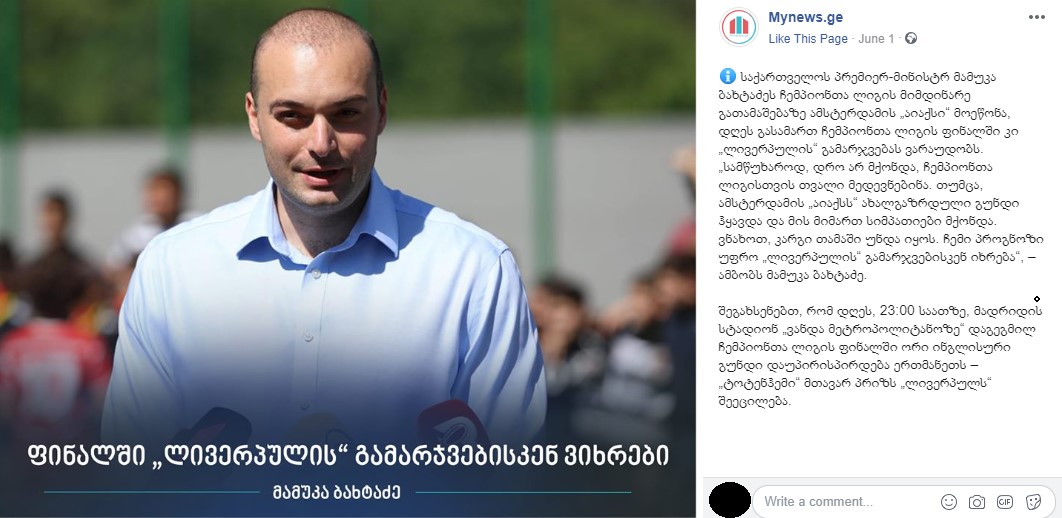 Mynews.ge - I think that Liverpool will win in the final – Mamuka Bakhtadze. Georgian Prime Minister Mamuka Bakhtadze liked Amsterdam's' Ajax at current Champions League playoff. He thinks that at today's Champions League final Liverpool is going to win. "Unfortunately, I didn't have time to follow the Champions League but Amsterdam's Ajax had a young team and I liked them. Let's see, it should be a good game. I think that Liverpool will win" – said Mamuka Bakhtadze. As you know, today at 23:00, at the Wanda Metropolitano stadium in Madrid, two English teams will battle it out in the Champions League final – Tottenham will be competing with Liverpool for the main prize.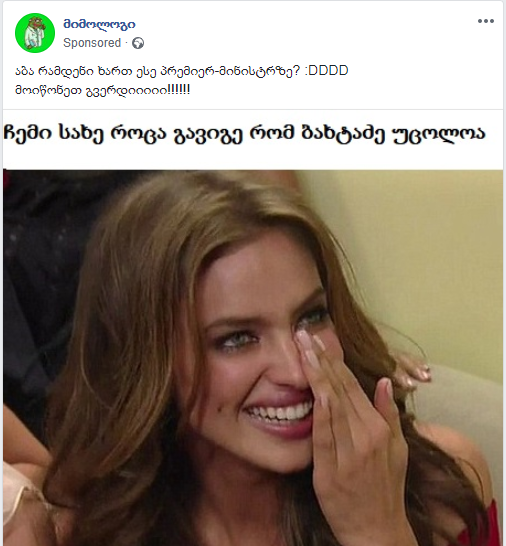 Memologue
How many of you feel like this about the prime minister? Like this page!
Text on the image: My face when I learned that Bakhtadze is single
The scale of the campaign in support of the former prime minister on Facebook is also indicated by the fact that in addition to anonymous pages, he was also promoted within Facebook groups. Fake profiles or pages were sharing news about Bakhtadze in different groups with over tens of thousands of members. However, due to the current Facebook policy, such closed groups remain beyond the effective observation. Simultaneous publishing of sponsored posts and similarities in their design or contents, and sharing of these posts in a purposeful way in different groups with numerous members clearly suggests that we are not dealing with individual pages or news agencies but rather, a group that is purposefully engaged in a political PR campaign.
Attempts to create an illusion of high public support toward he prime minister on Facebook are not a new phenomenon. During Kvirikashvili's tenure, in response to the Haha reaction flash-mob on the post published on his Facebook page in support of Thea Tsulukiani, the number of likes on the post was boosted using bots as the post was liked by thousands of subscribers majority of which were from India, Pakistan and Asian countries according to their profile pictures and other information provided.
Following Kvirikashvili's resignation, his Facebook page was deleted and several anonymous pages started a sponsored campaign against him. Unlike Kvirikashvili, Mamuka Bakhtadze's resignation was met with farewell posts on Facebook pages that praised him. They aimed to portray his tenure in a positive light.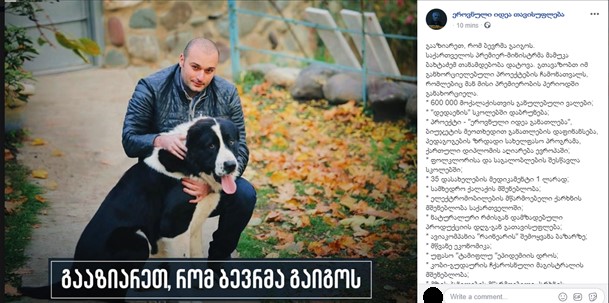 National Idea Freedom
Share so that everyone can hear - Georgian Prime Minister Mamuka Bakhtadze resigned. Below is a list of projects that were implemented during his tenure: 600 000 citizens had their debts forgiven; Deda Ena was returned to schools; The project- National Idea Education; Education was funded with one fourth of the budget; Increasing salary program for teachers; Recognition of Georgian diploma in Europe; Folklore and chanting introduced in school curricula; 35 different types of medication for GEL 1; Building of a military city; Building of eclectic cars production plant in Georgia; Exemption of natural diary products from VAT; Ryanair launching flights in Georgia; Green economy; Free Tamiflu during the epidemic; Building of Kobi-Gudauri highway
National Idea Freedom

Prime Minister Mamuka Bakhtadze made a statement about resignation. Even though majority of Georgian population doesn't have information about successful projects that were implemented during his tenure in office, I hope that time will answer all questions. I can say that Bakhtadze was a professional that focused more on results than on PR.

Union of Mountain People

It is very unfortunate that Prime Minister Mamuka Bakhtadze, who was known for his decisions for the people, has resigned. He was the person whose decisions were driven not by personal but by public interests, however Georgian society has become so used to political populism that it is very difficult for it to distinguish real patriots.
For Facebook users Mamuka Bakhtadze's tenure in office has ended and he will probably completely disappear from the Facebook space soon. Now these pages have shifted their focus onto Giorgi Gakharia and there is a trend of portraying him in a positive light before the general public.
Based on the monitoring it is clear that significant resources of unknown origin are spent on promotion of Georgian prime minister through anonymous Facebook pages. It is highly likely that the ruling party or individuals close to the ruling party are behind these efforts. It is important that funds spent on such activities are transparent. Unfortunately, monitoring of sponsored political content on social media in Georgia remains a serious challenge.